Smoke billows across the highway as dozens of chicken halves skewered on rods rotate continuously like passengers on a carnival ride over open flames on a rotisserie grill. The enticing, unmistakable aroma of a kiawe barbecue attracts passersby in cars. They pull over to purchase an order or two of succulent, tender chicken widely referred to throughout the islands as "huli huli" chicken.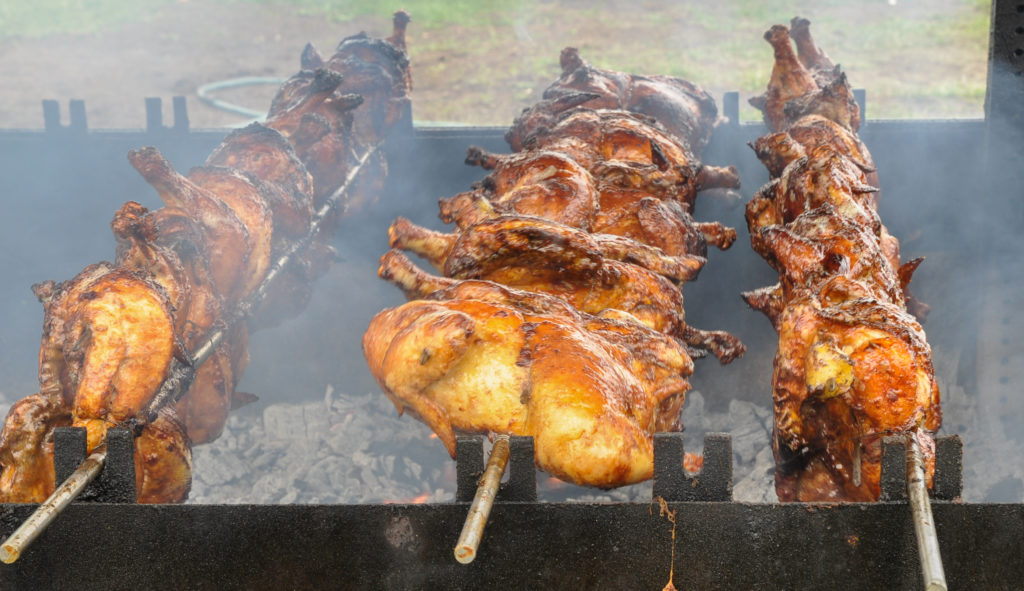 The word "huli" in Hawaiian means to "turn." Back in the 1950s, the first huli huli chicken rotisseries began popping up on Oahu's North Shore along the roadside and in the beach parks. Before rotisseries were popularized, proprietors placed the chicken between two screens with long handles, flipping the grills manually. When one side of the chicken was cooked, workers would shout "huli" and then flip the grills. Thus the origin of the term "huli huli" chicken.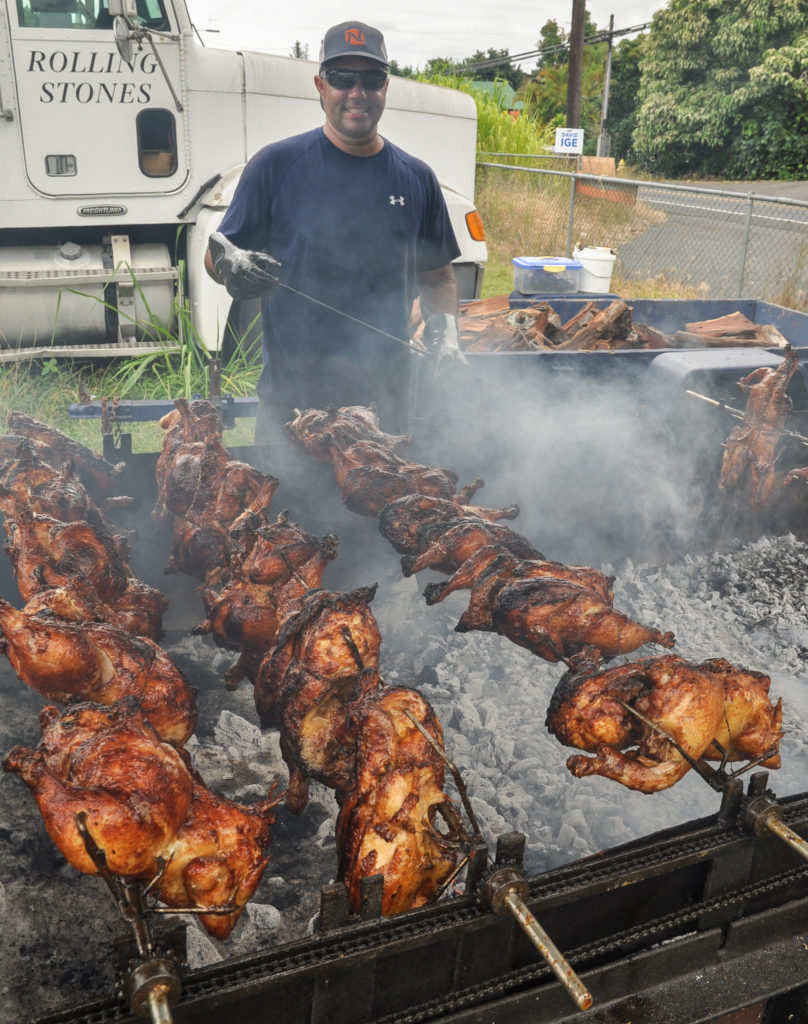 Technically, however, the term "huli huli" chicken is a patented name. It was registered in the Territory of Hawaii in 1958 and then later with the United States in 1965 by the late Ernie Morgado of Honolulu. His bottled Huli Huli Sauce is a staple in Hawaii. When describing to this style of barbecue, cooks, restaurants and roadside proprietors are only allowed to name their product in the singular, a.k.a. "huli" chicken. Most residents and locals in Hawaii refer to the popular chicken in the plural, "huli huli," as a matter of course.
Ernie's patented Huli Huli sauce was a family recipe made with fresh ginger juice and aged soy sauce. Ernie also pioneered the tradition of making huli chicken for fundraising events. These events have helped countless charitable, youth and church groups throughout the islands for more than 30 years. Some groups can sell up to 5,000 chicken halves in one day. In 1981, an Iolani School fundraiser set the Guinness record in which 46,386 chicken halves were cooked in less than nine hours.
WHERE TO FIND IT:
Here on the Big Island, you can find authentic huli chicken served most every Friday and Saturday at Randy's Huli Chicken and Ribs stand in Kealakekua alongside Highway 11. The roadside rotisserie is a family affair, with Randy Morris at the helm. They sell hundreds of half chickens per day, grilling the chicken over kiawe wood to give it a rustic, smoked flavor. The chicken is tender and juicy, seasoned with Randy's own special sauce. He sells pork brisket and ribs, as well as corn and other sides.
If you're headed to Kealakekua Bay or South Kona on a Friday or Saturday afternoon, be sure to stop by Randy's and try some of the tastiest BBQ chicken you've ever had. It's a quintessential Hawaii experience!