Its 112-foot steeple pierces the sky above Historic Kailua Village and is one of the most recognizable sites along the entire Kona Coast.
The first Christian church ever established in the Hawaiian Islands, Mokuaikaua Church — located on Ali'i Drive across from Hulihe'e Palace— is more than an important historic landmark, museum and visitor attraction. It is also home to an active congregation that continues to make history to this day, almost two centuries after the church's founding in 1820. In 1969, the congregation was instrumental in ensuring that the steeple would always remain the tallest structure in Kailua Village, leading to the establishment of an ordinance that no building in the village could be higher than three stories.
The first American missionaries arrived in Kona on April 4, 1820 after 163 days onboard the 85-ft. brig Thaddeus. They successfully lobbied Liholiho and Queen Ka'ahumanu to introduce Christianity to the Hawaiian people.
Two thatched-roof structures were built prior to the present church. In 1820, the first a 30′ x 60′ house, or King's Mansion, was erected using rocks taken from a nearby native temple. The second structure was built 1825 as an actual church, but burned down in December 1835. The present sanctuary was immediately rebuilt and dedicated in 1837. The church as it is today is built exactly where the second one was built. Many of the stones from the second church are still intact as well. The old steeple held a weather vane in the shape of a rooster. The 1910 Memorial Arch frames the entry to the church on the Ali'i Drive side of the property.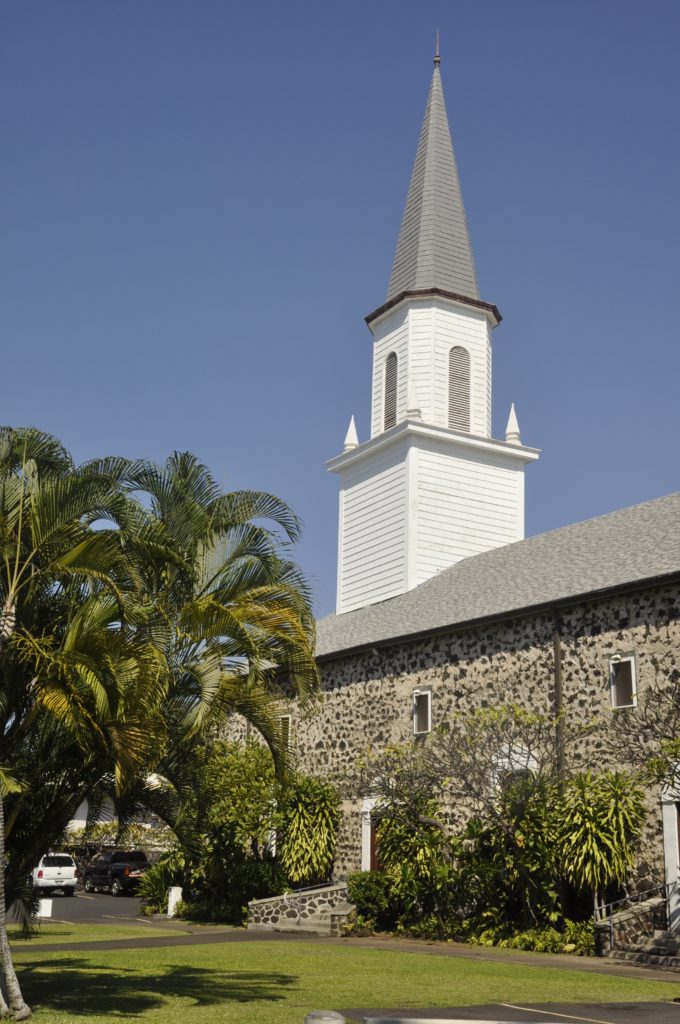 There is no steel in the structure but there are large lava granite slabs in each of the four corners that testify to the integrity of the engineering of the building. All the posts and beams are made of ohia. The walls are constructed of lava rock, adhered by mortar made of crushed coral and sand. In 1937, the roof was redone with Douglas Fir, and an entirely new tower and steeple were installed.
Made entirely of koa wood, the pulpit and pews, wooden screens and railings were added in recent decades dating back from the late 1960s. At the back of the church, the Thaddeus Room showcases a model of the Brig Thaddeus displayed on a large koa table.
The church itself own almost two acres of property including the Kailua Trade Center building directly behind it. The building was donated to the church by the great, great grandson of Asa Thurston, the founding minister who presided over Mokuaikaua Church from 1820 to 1860.
The sanctuary is open daily from 7:30 a.m. to 5:30 p.m. Visitors are welcome to explore the inside of the church, including the Thaddeus Room where plenty of historical documents and information is on display. Because of its age, Mokuaikaua Church is considered an endangered historic treasure of Hawaii's heritage. To donate to the ongoing restoration of the church, visit Mokuaikaua.com