In Holualoa just five minutes above downtown Kailua-Kona, the Malulani Events Pavilion at Holualua Inn offers an elegant outdoor venue replete with open-beam vaulted ceilings, an enclosed prep facility and bar area surrounded by spot-lit tropical gardens, an enormous lawn and the Zen backdrop of the Inn's beautifully manicured grounds. For larger events, the Great Lawn can be tented with multiple covered areas configured to the theme and size of the event. The seating capacity of Malulani Events Pavilion is 120 people. Situated on 30 acres, Holualoa Inn is comprised of a six-room bed-and-breakfast inn, along with a one-bedroom vintage cottage just a short distance from the pavilion. Here, brides can prepare for their big day in the comfort of the cottage. For wedding participants, whole-house rentals at the Inn accommodates 12 guests based on a 2-night minimum stay. The exclusive estate rental provides use of the entire inn including the cottage, pool, garden gazebos and Malulani Events Pavilion.
For a truly unique wedding ceremony in the heart of the Kilauea Volcano rainforest, Mahinui Wedding Pavilion provides an open-air setting surrounding by hapu'u ferns and 'ohi'a trees not far from Hawaii Volcanoes National Park. Accommodating up to 24 people, the architecturally distinct pavilion includes a hand carved altar, several fire pits, Bose sound system, seating and lots and lots of candles. The owner of the pavilion is a non-demoninational celebrant who will preside over your private and intimate ceremony. It's easy to marry in Volcano. You can register your intent to marry in Hilo, just a 35-minute drive away, and have your celebration on the same day. A honeymoon treehouse nearby offers a romantic and thoroughly unique accommodation in the rainforest, including a cedar hot tub built into the first-story lanai above the forest.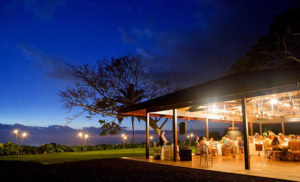 For a dramatic ceremony near the the ocean, Sheraton Kona Resort & Spa at Keauhou Bay offers the Bayside Chapel, Bayside Lawn, Photo Gardens and Bayside Overlook. On the Kohala Coast, the Mauna Kea Beach Hotel presents several wonderful outdoor and indoor locations for wedding ceremonies, including The Garden Room, featuring terraced dining levels with floor-toceiling sliding glass panels on all the walls for magnificent views of the ocean and the resort.