For the first time in three years, lava is now flowing into the ocean via Kilauea's East Rift Zone. Visitors and residents alike are flocking to the Kalpana area of the Big Island to witness the flow firsthand, up close and personal. Others are chartering lava boat tours to get the best view of the dramatic flow as it spills over the sea cliffs and into the surf below.
Derived from the Pu'u O'o vent, the current flow began this May and is the 7th flow in the 61st episode of the ongoing Pu'u O'o eruption that began in 1983. Advancing two miles down the coastal plain, the flow is a combination of pahoehoe and a'a lava, slowing traversing in lobes and breakouts fed by lava tubes spanning from the vent above down the Pulama pali along the southeast flank of Kilauea bordering Hawaii Volcanoes National Park. Before it reached the cliffside this week, the flow crossed the recently rebuilt evacuation route that connects Chain of Craters Road with Kalapana. The gravel-covered emergency road was rebuilt over old lava flows in 2014 by the County of Hawaii when lava threatened, and came close to taking out, the town of Pahoa in lower Puna. Fortunately, that flow stopped short of Highway 130 right at the edge of town and is now considered inactive.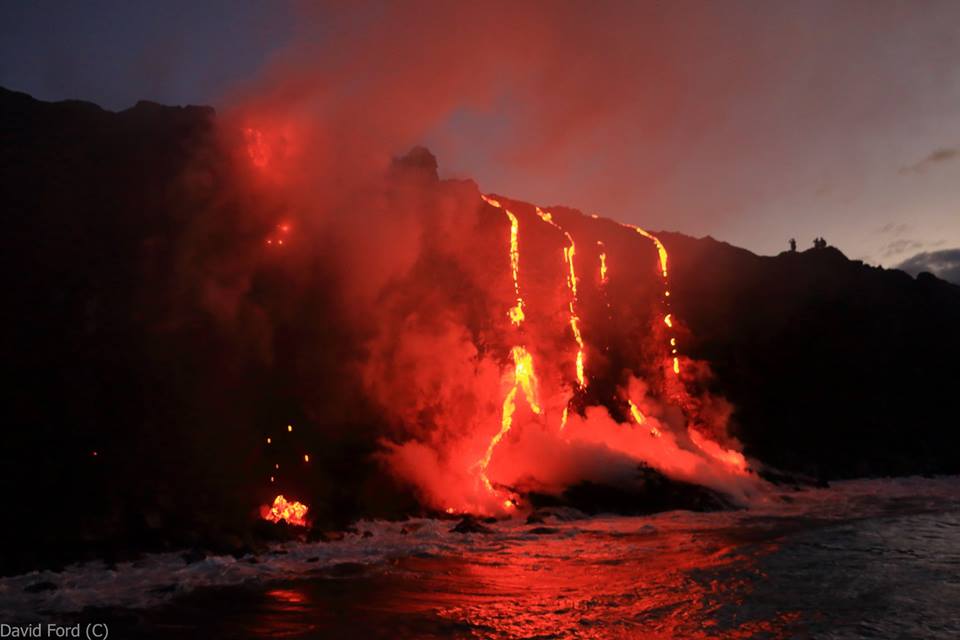 Lava adventurers are required to park their cars some distance from the flow and hike in. Prospective visitors should keep in mind that there are potential, significant hazards for anyone hiking near active lava flows. Rangers at the park recommend that visitors come fully prepared with closed-toed sturdy shoes, appropriate clothing, plenty of water and flashlights. Sulfar-laden plumes can be harmful to your health. Venturing close to an ocean entry can be a risk not worth taking, given the possibility of flying debris, explosive events and unstable land. To keep up with the daily activity, interested people can sign up for daily email updates and/or text messages via USGS Volcano Notification Service or by visiting the USGS Hawaiian Volcano Observatory website. The official site features updates, photos, maps and more. The Coastal Ranger Station on Chain of Craters Road offers resources and information about how to view the lava safely.
If you're not up for the long drive and hike to the flow, you can catch some action right inside the park at Kilauea's summit, where Halema'uma'u Crater's lava lake has been spattering lava within view of the Jagger Museum in recent days.