Kona is the capital of marlin fishing, and nothing proves this point more than the prestigious Hawaiian International Billfish Tournament held every year in Kailua-Kona at the end of July since 1959.
This year's 57th-annual event gets underway Saturday, July 30 through August 6, 2016. Teams from around the world will traverse the acclaimed waters off the Kona Coast to vie for the coveted Governor's trophy and other hard-sought awards. Each morning during the tournament beginning at 7:30 a.m., fishing boats line up across Kailua Bay just beyond the pier. Spectators can watch the scoreboard action when teams weight their big-fish catches at the end of each fishing day at 4:30 p.m. Much of the tournament is catch and release.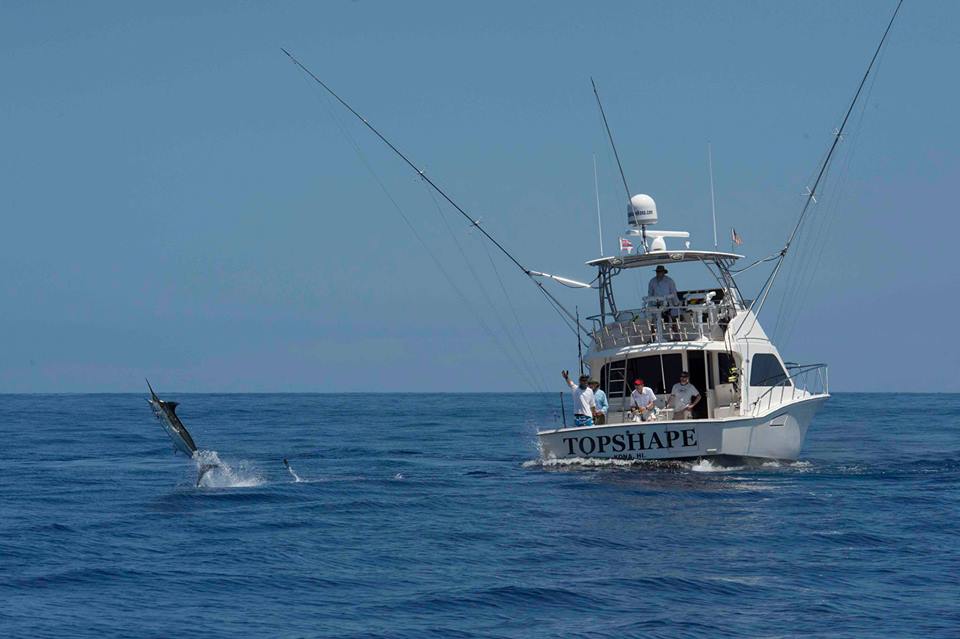 Last year's winning team, USA's Team Likeke chalked up 2,296 points. Australia and Japan finished in the top three. This year, HIBT teams expected to compete include teams from Australia, China, Japan, New Zealand, Papua New Guinea, Singapore, Vanuata and from across the United States.
What makes the waters off the Kona Coast such prime fishing grounds for Pacific Blue Marlin and other big fish? Dropping more than 800 feet just one-half mile offshore, Kona waters are deep and calm and brimming with sealife. The gentle tradewinds, crystal-clear blue water and idyllic weather combine to attract anglers from around the world. While the 1,000-pound grander is considered the grand catch among blue marlin anglers, other big fish thrive in Kona waters. These include broadbill swordfish, mahi mahi, ono and skipjack. Yellow fin tun, also known as "ahi," can weigh up to 250 pounds and are known to put up a fight. Big-game fishermen in Kona might also encounter the Pacific sailfish, black marlin and shortnosed spearfish.
For visitors, dozens of charter vessels are based in Honokohau Harbor, located just a few miles north of Kailua Pier. Some of the more deluxe vessels feature air-conditioned staterooms, hydro stabilizers and more. Some charters are more suited to smaller game fish. Other charters specialize in targeting the trophy marlin.
Fun for the entire family, the upcoming HIBT features landlubber events open to the public. Festivities include the opening ceremonies, crafts & food fair, personal appearances by Miss Billfish 2016, international entertainment and daily weigh-ins at the Kailua Pier. A retail boutique at the pier showcases souvenir shirts, caps, bags and goodies to support the Pacific Ocean Research Foundation (PORT). Port is a non-profit scientific entity in conjunction with Stanford University that studies the science of the Pacific Blue Marlin.
For more information about the history of the HIBT, visit www.HibtFishing.com