At the end of a Hawaiian day, sitting in your favorite chair, watching as the sun sinks into the beautiful blue sea, what drink do you have in your hands? Is it the World's Best Mai Tai? Who created the delectable Mai Tai anyway?
Restaurateur rivals, Ernest Gantt of Don the Beachcomber and Victor Bergeron of Trader Vic's both claim to have created our beloved Mai Tai. Ernest opened his first bar in Hollywood, California called Don's Beachcomber Cafe where he lay claim to the Mai Tai in 1933. Victor claims to have invented the Mai Tai in 1944 while entertaining friends from Tahiti at his restaurant named Trader Vic's in Oakland, California. After tasting this new creation, his friend exclaimed, "Maita'i roa ae!" In Tahitian this means, "Very Good!". Thus the name Mai Tai.
In the 1940s and 1950s, Tiki restaurants emerged and gained popularity in the states. Don the Beachcomber restaurants and Trader Vic's were growing in numbers. After the opening of the original restaurant in California, Don the Beachcomber restaurants opened in many other cities such as Chicago, Illinois, Las Vegas Nevada, and Houston, Texas. Ernest Gant made his way to Waikiki at some point before Hawaii's statehood. Here he would become the founder of the International Marketplace in Waikiki.
Today, there are three Don the Beachcomber restaurants in operation. One in Huntington Beach, California, another in Lahaina, Maui, and our very own in Kailua-Kona, Hawaii. Come on down to the Royal Kona Resort on August 15th where others will lay claim to the ultimate Mai Tai at the 7th Annual Don the Beachcomber Mai Tai Festival. In celebration of the legendary Mai Tai cocktail, over 20 of the world's top bartenders will compete for the title of World's Best Mai Tai.
On Saturday, August 15th, the Mai Tai Marketplace will open with local vendors from 11:00am-4:00pm. The Battle of the BBQ starts at 11:00am and continues to 2:00pm. Here you can taste and vote for Hawaii's best barbecue. Listen to live music from Henry Kapono from 2:30pm-4:00pm. The Mai Tai Mix Off begins at 4:30pm. The first place winner receives $10,000, second place winner receives $5,000, and third place winner receives $2,500. One lucky bartender contestant will receive a FREE 7-night / 8-day stay in a one-bedroom suite at their choice of any Diamond Resort in the United States.
AUGUST 13 By Jean Laliberte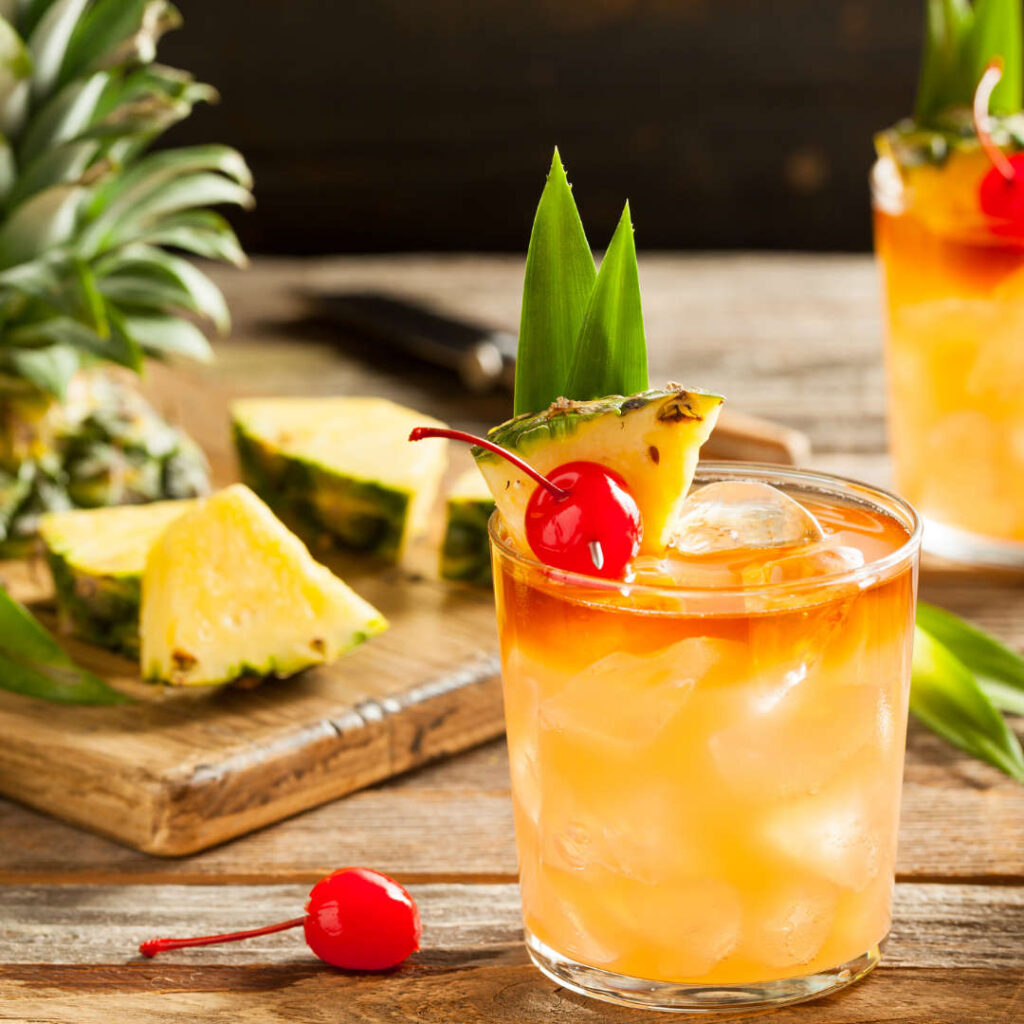 DON THE BEACHCOMBER'S MAI TAI
◦ 1 oz gold rum
◦ 1 1/2 oz Meyers's Plantation rum
◦ 1 oz grapefruit juice
◦ 3/4 oz lime juice
◦ 1/2 oz Cointreau
◦ 1/4 oz falernum
◦ 6 drops Pernod or Herbsaint
◦ Dash of Angostura bitters
Shake well with crushed ice.
Pour unstrained into a double old-fashioned glass.
Garnish with 4 mint sprigs
Recipe by Don the Beachcomber circa 1933.Classic Mai Tai
Make it a long weekend and indulge in one of our many luxury vacation rentals along the Kona and Kohala coast. Come stay with us and end your beautiful Hawaiian day, watching the sunset with a Mai Tai in your hands, your very own sip of paradise. Come home soon.