Bodyboarding, or as it was once popularly known, Boogie Boarding, was invented in Kona in 1971 by California transplant Tom Morey. Tom lived in a small apartment above a garage at Honl's Beach on Ali'i Drive. At the time, he didn't have his own surfboard but longed to ride the waves that rolled in below the house.
Borrowing an electric carving knife and a household iron from his landlord, he crafted a small board out of scrap foam and newspaper pages. The rest is history.
The birthplace of the flexible waverider, Honl's is still known as the bodyboarding capital of Kona. Through the years, contests have been held at the popular surf break. Visitors and locals alike bring their boards to ride the rolling waves.
Originally dubbed the Morey Boogie board, Tom's invention took off. In 1977, he produced more than 80,000 Boogie Boards, but a bad business deal with the Kransco (Wham-O) company left him without much of profit when all was said and done.
.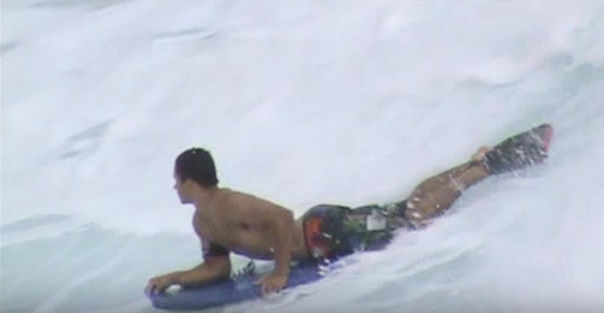 Kona is ideal for bodyboarding, thanks to its numerous shallow reef breaks. Other favorite bodyboarding spots include Old Airport Beach, Magic Sands, Hookena, and Hapuna.
A favorite pastime for all ages, bodyboarding provides novices and experts alike the chance to ride waves while lying prone on the board. Most riders wear fins for additional speed and control. Maneuvers include aerobatics, aerials, 360s, front flips, backflips, spins and straight-out surfing along the open face of the wave. Riding techniques also include the dropknee and standup.
If you are on vacation in Kona, you can rent a bodyboard from any number of surfing vendors along Ali'i Drive, or buy one from a retail store like Miller's Surf on Alii Drive near Banyans. Either way, you're sure to find lots of ways to have fun while bodyboarding